TPicShow is an image slider control with 176 transitional effects in pure Delphi code. The major characteristics of TPicShow are:
Image transition can be controlled programmatically
Image can be stretched or centered in the client area of the control
Control can show a background image as centered, stretched, or tiled
Transition process can use a separate thread
New transitional effects can be easily implemented and added.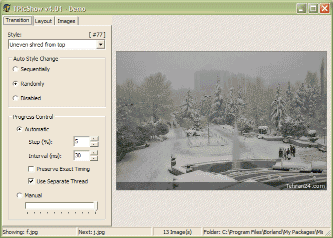 TDBPicShow is the data-aware version of TPicShow with the ability to load bitmap, jpeg, metafile, and png (Delphi 2009 and later) images from a blob field.
Download
PicShow Components (1.1 MiB, Last updated on July 19, 2010)Source code of the TPicShow and TDBPicShow components, including the documentation and two sample programs.
Operational In
If you have a software using TPicShow or TDBPicShow components, and you would like your product to be listed here, please post the link to your software's homepage and a brief description about it on the miscellaneous section of the forum.