TRotateImage is an image viewer control similar to TImage with the ability to show the image rotated at an arbitrary angle.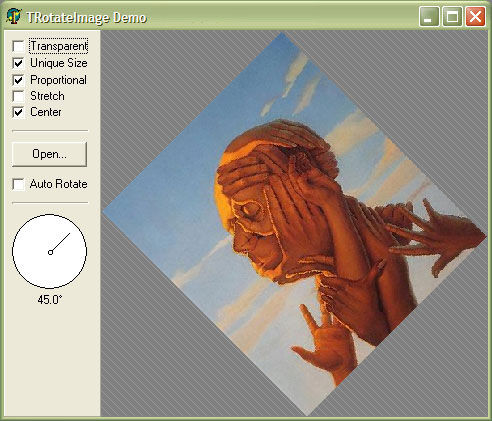 TRotateImage is for applying a fast rotation not generating an anti-aliased image. Because of that, this control is suitable for dynamic rotation of the images to show a preview of them to the end user.
Download
Rotate Image Component (29.1 KiB, Last updated on November 18, 2008)Source code of the TRotateImage component, including the documentation and a sample program.
Operational In
This is a small and fast image viewer for Windows written by Alexander Tereschenko. It supports more then 30 graphic formats, TWAIN-compatible scanners/cameras, screen/window capture, wallpaper tools, HEX viewer, image transformations, file browser/manager, advanced printing features with preview, optional integration with Filters Unlimited and much more…
If you have a software using the TRotateImage component, and you would like your product to be listed here, please post the link to your software's homepage and a brief description about it on the miscellaneous section of the forum.