The print preview components consist of three visual components for low level print and print preview. All of these components are fully customizable and have extensive set of useful methods and events.
TPrintPreview
TPrintPreview is a descendent of TScrollBox and has properties of both TScrollBox and TPrinter classes. Key features of TPrintPreview are:
Supports almost unlimited amount of pages
Automatically adjusts printer's paper size and orientation at the print time
Automatically adjusts mapping modes
Preview pages can be scaled with an arbitrarily zoom factor
Shows created pages while new pages are being processed
Displayed pages can be scrolled by mouse dragging
Pages can be saved/restored to/from disk
Each page is accessible as a Windows Metafile image
Has some methods for rendering rich text format
Can manage custom forms (custom paper sizes)
Allows background and annotation for both print and preview pages
Both preview and print pages can be displayed in grayscale, with ability to adjust brightness and contrast
Allows inserting, replacing, editing, deleting, and reordering of pages freely at any time
By using dsPDF library or Synopse PDF library, can save pages as PDF
Can save pages as multi-page TIFF image
Has a complete set of events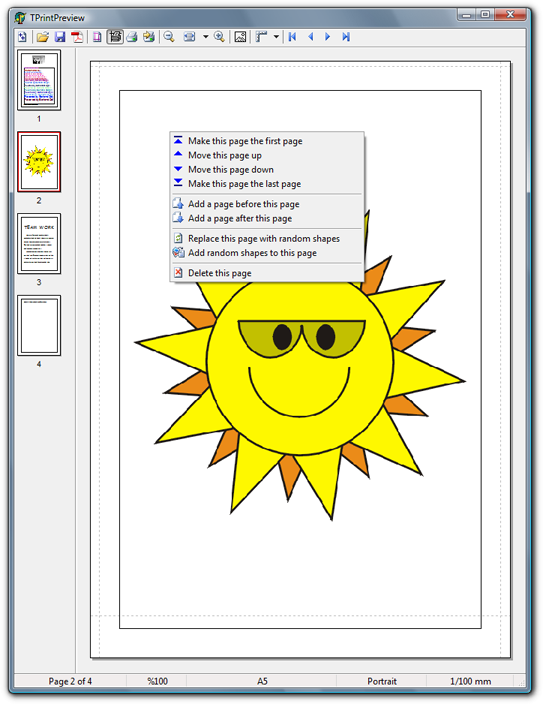 TThumbnailPreview
The TThumbnailPreview control is a special ListView for showing thumbnails of pages generated by TPrintPreview control.
Not only you can use this control to show thumbnail of pages, but also the users can get benefit of it to do some actions (e.g. delete, print, move, …) on the selected pages.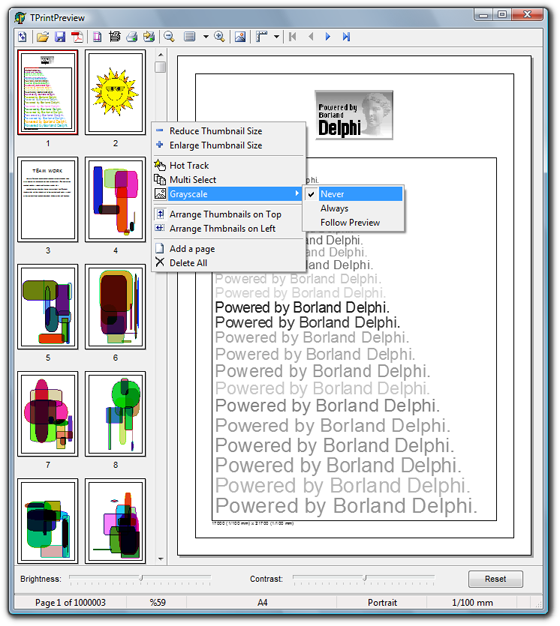 TPaperPreview
The TPaperPreview control represents a sheet of paper in the TPrintPreview control, but you can use it as standalone too.
Usage of the TPaperPreview control is very similar to TPainBox control of Delphi. However, in opposite of TPainBox, the TPaperPreview control caches the last paint and do not generate redundant OnPaint events. It also paints only invalidate part of the control not the entire client area. Because of that, this control is much more efficient than TPaintBox control.
The TPaperPreview control also can be captioned. In this case the caption appears under the page.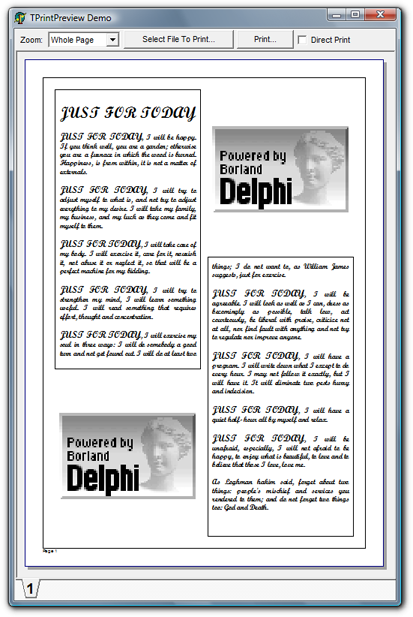 Download
Print Preview Components (550.0 KiB, Last updated on March 4, 2018)Source code of the print preview components, including the documentation and three sample programs.
Frequently Asked Questions
I cannot preview an A2 paper
If Units property is set to mmHiMetric and width or height of the paper size is bigger than 32767 units, the page is displayed incorrectly. This is because the SetWindowExtEx API expects a 2-byte signed integer (Smallint) as X and Y parameters, therefore values bigger than 32767 are interpreted as negative values. To avoid this problem, use a less accrued unit.
Characters appear overlapped when I change zoom
When zoom is other than 100%, characters in non-scalable fonts appear overlapped. To avoid this problem, always use TrueType or OpenType fonts.
I have an RTF file with some embedded images, but images do not appear in preview and print
For rendering RTF, the component sends EM_FORMATRANGE message to the rich edit control. Some rich edit controls do not handle this message as expected. For example, the message handler of Delphi's TRichEdit ignores all the embedded objects, including images. Instead of TRichEdit, you can use a third-party rich edit control.
Preview of some RTF files do not look as their print
This issue is a known rich edit control problem.
I am using TRxRichEdit control of RxLibrary, but I cannot print its content
There are some third party rich edit controls that are not derived from TCustomRichEdit class. In other hand, PaintRichText and GetRichTextRect methods of the TPrintPreview component expect a TCustomRichEdit as their RichEdit parameter. To workaround this problem and pass such kind of controls to PaintRichText or GetRichTextRect methods, safely type cast the control to TCustomRichEdit. The TPrintPreview component needs only Handle property of rich edit controls to send Windows messages to them.
Operational In
If you have a software using the TPrintPreview component, and you would like your product to be listed here, please post the link to your software's homepage and a brief description about it on the miscellaneous section of the forum.